Today was Day 1 of VMworld 2017 and yet again, over 20,000 folks saw fit to descend upon Las Vegas, NV in search of education, excess, and esprit de corps. I count myself among privileged group that made it out this year largely because of the vExpert program and VMware's sustained support of the community. So first and foremost, my thanks to and the entire vExpert team for everything you folks do.
There were three major themes that stood out during today's content and, spoiler alert, they aren't surprising: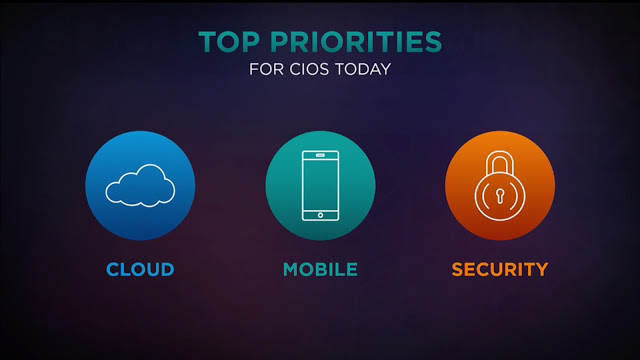 First order of business during today's keynote was describing the landscape we are all faced with as business professionals and technologists today: Shipyard workers in South Korea , quantum entanglement allows us to, and scientists efficiently and accurately modify genes using CRISPR
VMware seems to have matured their message from 2015 around any device, any app, any cloud. In my opinion, it's been tempered by the marketplace's obvious desire for agility and simple consumption models. Ready for any is a foregone conclusion in this day and age. Our customers want ready for any, quick, easy, and secure. In my opinion, today's announcements show a good faith effort on VMware's behalf to deliver on that vision.


VMware Cloud on AWS GA Announcement
VMware cloud on AWS has now formally been launched and is available in the US West (Oregon) region with plans to expand globally in 2018.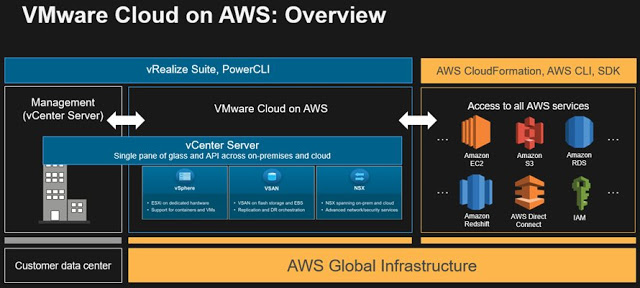 The offering consists of a single host footprint currently. There is lots of detail in this whitepaper, but here's some choice cuts to get you started:
VMware Cloud on AWS base cluster configuration contains 2TB of memory and four hosts.

Each host is configured with 512GB of memory and contains dual CPU sockets that are populated by a custom-built Intel Xeon Processor E5-2686 v4 CPU package. Each socket contains 18 cores running at 2.3GHz, resulting in a physical cluster core count of 144.

VMware Cloud on AWS uses a single, fixed host configuration; the option to add components to the host configuration is not offered at this time. However, the scale-out model enables expansion to up to 16 hosts, resulting in 576 CPU cores and 8TB of memory.

The SDDC cluster includes a vSAN all-flash array. At initial availability of VMware Cloud on AWS, each host is equipped with eight NVMe devices and a total of 10TB of raw capacity, not including the cache capacity of the vSAN datastore, for the VMs to consume.

Within a VMware Cloud on AWS four-host cluster configuration, 40TB of raw capacity, comprising all 32 encrypted NVMe devices, is available for the VMs to consume.

The management VMs consume. 9 percent of the vSAN datastore capacity.

If the cluster is expanded to 16 hosts, 160TB of raw capacity is available for the VMs to consume, along with 128 encrypted NVMe devices.

For all cluster configurations, the usable VM storage capacity depends on the per-VM storage policy.
Pricing details are here but long story short there are hourly on demand rates, 1 and 3 year terms and you can save up to 25% of list price by owning existing licenses for vSphere, vSAN, and NSX for on premises use in conjunction with VMware Cloud on AWS.
You will be able to use the new Hybrid Linked Mode to connect your vCenter Server running in VMware Cloud on AWS to your on-premises vCenter server to get a single inventory view of both your cloud and on-premises resources but be aware you will need to be on 6.5 to do this. VMware's long term stance will be N-1 support for on premises resources going forward.
I could do an entire series of posts on this offering alone but the main product page should give you everything you need at this juncture.


VMware Cloud Services
VMware also announced 6 new cloud services today aimed at allowing customers to easily manage and secure workloads in the cloud and in the datacenter.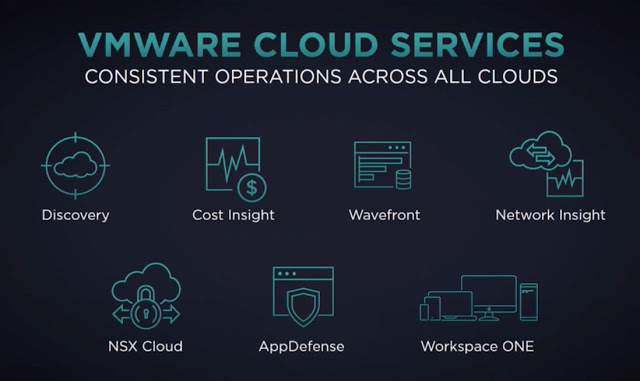 Now that customers have quick and easy access to a VMware based hybrid cloud, they need simple, accessible, and scalable tooling to connect, secure, monitor, and manage the stack. This appears to be the primary focus of VMware's new Cloud Services. Here's what we have today:
All in all it was a great formal kickoff to the conference. As a VMware and AWS junkie I can't even begin to describe how excited I am to see these two behemoths coming together to deliver our customers a great hybrid cloud experience. Today's announcements show that VMware understands what the market wants and is attempting to deliver on their interpretation of that vision for the future.
Until next time!